On-Site and Remote Software Training

for Law Firms, Government Agencies, and Individuals

---
CompuSavvy provides hands-on computer training throughout California.
We specialize in on-site software training for law firms and government agencies.
And we offer remote training (webinars), too!
---
On-Site Training (at Your Office) or Remote Training (Webinars)

for Small Groups and Individuals
We offer expert training for small groups and individuals in:

MS Word&reg
WordPerfect&reg
Converting / Moving From WordPerfect to MS Word
and more!
Let us help you get the most out of your software. We'll teach you the features you most need to know, such as:

Aligning text with pleading line numbers
Changing / "suppressing" the page numbers
Adding a code for the file name and path
Using automatic paragraph numbering
Cross-referencing
Redlining / comparing documents

and

Generating a table of contents / table of authorities

We've been working with law firms — both as trainers and as legal word processors with vast experience formatting a variety of legal documents — for nearly three decades, so we understand your computing needs. We take the time to answer your questions, and we explain things in plain English! Plus, we provide lots of handy "cheat sheets" you can refer to long after the formal training has ended. And we'll show you lots of time-saving tips and shortcuts.
Advantages of On-Site Training

Many people find on-site training more convenient than lab classes conducted in a computer training center. It's more economical, too! Plus, you can focus on the specific topics and features you most want to learn. Best of all, you get our undivided attention!
Advantages of Remote Training

Remote training costs less than on-site training, and it's a good option for organizations and individuals located outside California. We can provide remote training for up to five people.

So call CompuSavvy at (818) 776-1228 or drop us a note to inquire about prices and/or scheduling. We will be happy to design custom training that meets the needs of your staff. Our e-mail address is compusavvy AT earthlink DOT net (just substitute the @ symbol for "AT," substitute a period for "DOT," and remove any spaces).
---
Discounted One-on-One Training for Legal Secretaries
We also provide discounted training for legal secretaries or paralegals who want to brush up on their skills—on their own dime. Typically, we conduct one-on-one sessions on weekends at a mutually agreeable location.
Give us a call (818) 776-1228 or send us an e-mail at the compusavvy AT earthlink DOT net address, and we'll set something up.
---
We Also Design Custom Templates

We have many years of experience designing custom templates (mainly pleadings, but other document types, as well) for law firms and government agencies. Feel free to contact us for more information.
---
Jan Berinstein's new book,

Formatting Legal Documents With Microsoft Word 2016,

is available for purchase on Amazon.com!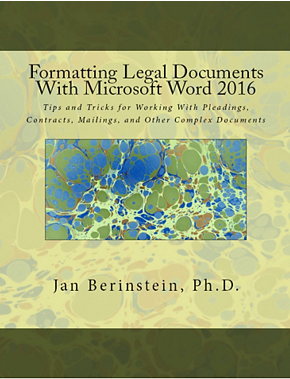 The book explains how Word works "under the hood," the key to successful formatting and troubleshooting; provides tips for restoring default settings and making the program more user-friendly; and shows how to perform legal-specific tasks (aligning text with pleading paper, generating and troubleshooting a TOC and a TOA, tracking changes, comparing documents, and much more)!
Loads of helpful hints for automating your work with keyboard shortcuts, field codes, and Quick Parts, as well as troubleshooting tips and workarounds.
To purchase the book on Amazon.com, click this link.
At this time, there is no preview available on the Amazon page. However, you can view or download the Table of Contents by clicking this link to the TOC.
To read a press release about the book, click this link.
Ms. Berinstein's Word 2010 book is still available on Amazon, as well. You can buy that book by clicking this link.
---
$10.00 Discount on Jan Berinstein's Word 2016 book extended through April 18!
Ms. Berinstein is offering a $10.00 discount on her new Word 2016 book! And because we all could use a break at this time of year, she has made the discount available through April 18, 2016.
To apply the discount, go to the book's page on CreateSpace (Amazon's publishing unit) and click "Add to Cart." Then paste the discount code into the "Apply Discount" box, click the "Apply Discount" button, and click "Check Out."
Be sure to calculate the complete cost, including shipping fees, before checking out to make sure it's a better deal than purchasing the book through Amazon.com. Note that Ms. Berinstein has no control over the shipping fees that CreateSpace and Amazon charge.
Here's the discount code: FXSVRGP6
Many thanks for your support!
---
---
CompuSavvy Blog Offers Word & WordPerfect Tips!
Check it out. You can find our blog by clicking this link.
Lots of useful stuff. Over the years, we've posted articles about understanding line and paragraph spacing in Word, bypassing the "Backstage view" (File tab) when opening and saving files in recent versions of Word, aligning text with the pleading paper in Word, inserting a filename or filename and path code (in both Word and WordPerfect), the role of the non-printing characters (in Word), creating QuickWords (WordPerfect), customizing the Quick Access Toolbar (Word), using line breaks (Word and WordPerfect), closing a document without closing Word, centering a page vertically (Word and WordPerfect), disabling an F-lock keyboard, and much more.
We will continue to add articles on a regular basis. Be sure to return every now and then to see what's new!
---
Thanks for dropping by!
You are visitor number
since February 15, 2016.
---
To contact us: Our e-mail address is compusavvy AT earthlink DOT net (just substitute the @ sign for "AT" and a period for "DOT" and remove any spaces).
Copyright &copy 2016 J. Berinstein, Ph.D. All rights reserved.
CompuSavvy logo designed by Michelle O'Meara of Ivy Publishing.
All rights reserved.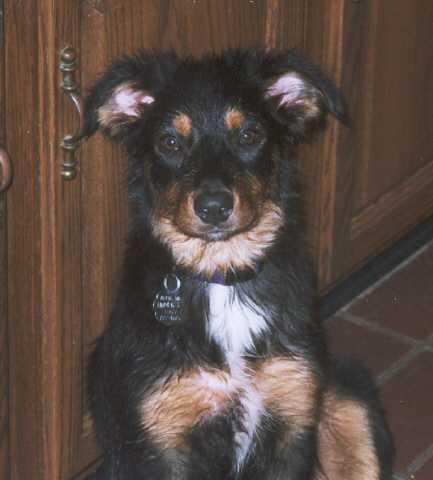 Maizie